If you're looking for something fun, entertaining, or educational to do over the holiday weekend, you've come to the right place. We've created a list of some of our favorite events this weekend so you won't miss a thing. Hope you have a very Happy Thanksgiving!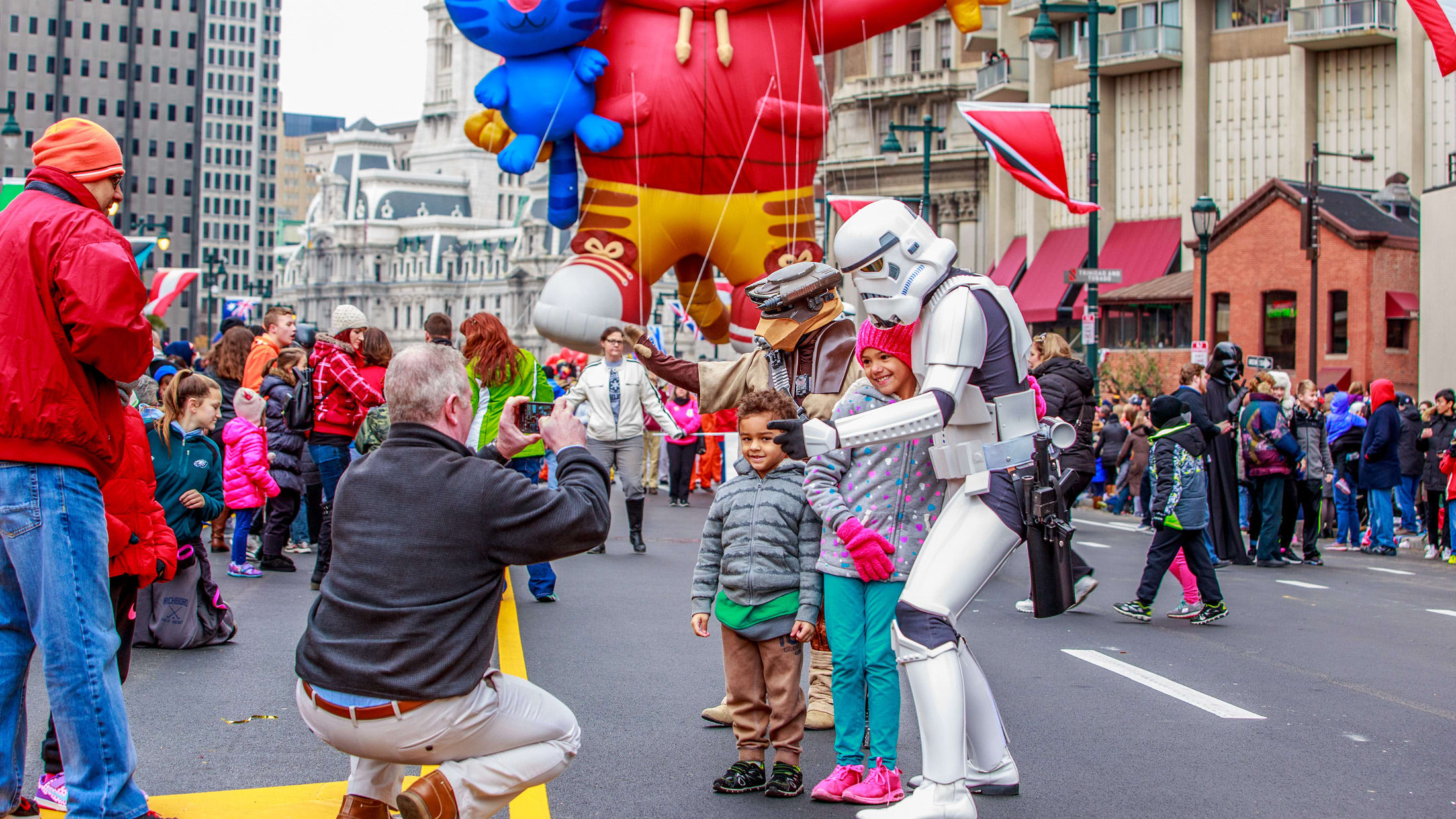 PHOTO BY J. FUSCO FOR VISIT PHILADELPHIA
Thursday, November 22, 8:30 a.m. - noon
Parade route begins at 20th St. & John F. Kennedy Blvd
Ends at Eakins Oval
Free
The nation's oldest parade kicks off the holidays each Thanksgiving Day. The annual event features collegiate marching bands, performances by Walt Disney World characters, giant balloons, floats and, of course, Santa and Mrs. Claus. The parade begins at 20th Street and John F. Kennedy Boulevard, turns left at 16th Street, veers left again at the Benjamin Franklin Parkway, continues straight down the Parkway and ends at Eakins Oval. Great spots to watch the parade include the steps of the Philadelphia Museum of Art, the south side of Eakins Oval, outside of the Comcast Center at 17th Street and John F. Kennedy Boulevard and LOVE Park.
Please click HERE for more details. ​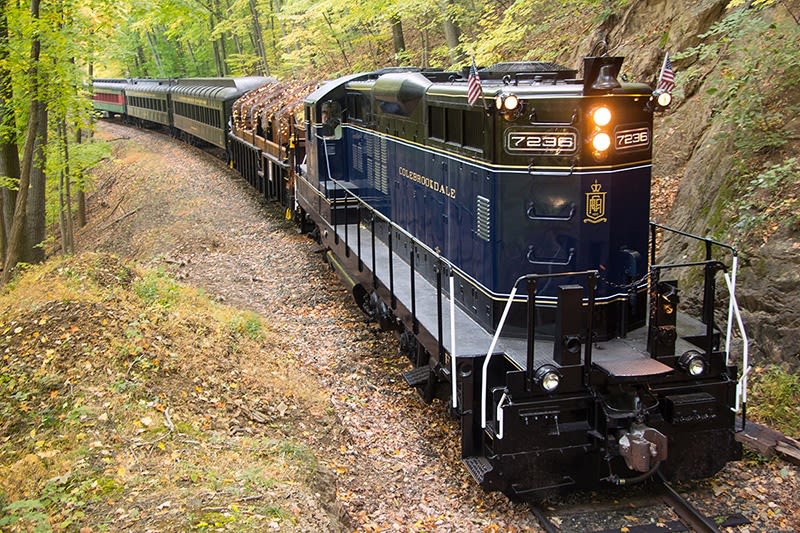 PHOTO COURTESY OF COLEBROOKDALE RAILROAD
Friday, Nov. 23, 2018, 7:00 PM
Saturday, Nov. 24, 2018, 7:00 PM
Colebrookdale Railroad, Washington & Third Streets, Boyertown
​These special evening trains bring the storybook magic of the season to life. Join them in your pajamas and sip complimentary hot cocoa as they read 'Twas the Night Before Christmas. Enjoy Christmas music and the comfort of their Edwardian-era cars, look for lights as the Secret Valley rolls past your window. Rumor has it Santa himself may appear with a gift for every child. Approx. two-hour round trip.
Friday and Saturday evenings during December First Class Parlor passengers enjoy Holiday Music at our Grand Piano!
Parlor Car Tastings: all tastings include an hors-d'oeuvres plate.
​Click HERE for more details.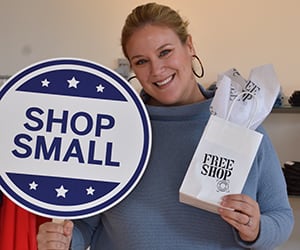 PHOTO COURTESY OF AMBLER MAIN STREET
Saturday, November 24th, All Day
​Ambler Main Street - Free Parking all Day
Small Business Saturday® is celebrated every year on the Saturday after Thanksgiving. It is a day dedicated to helping support the small businesses that help to create jobs, boost the economy, and preserve neighborhoods around the country. This year, Small Business Saturday is Nov 24th, so go out and Shop Small at your favorite small Ambler businesses and be a part of helping our community prosper. Let's make this the most successful Small Business Saturday yet!
FREE PARKING IN AMBLER ALL DAY!
​Click HERE for more details.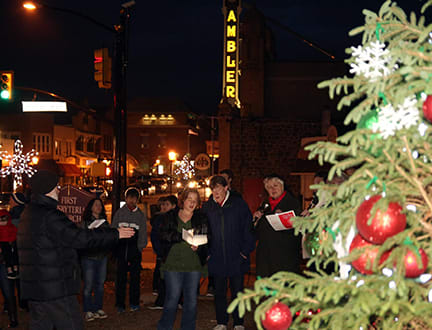 Photo by Chris Raines
Nov 23rd, 5:00 pm – 6:00 pm
The First Presbyterian Church of Ambler, 4 S Ridge Ave, Ambler
​The 4th annual Holiday tree lighting will be on Black Friday, November 23rd at dark (5PM).The Wissahickon Middle School Choir will lead us in song as we light the tree and the town for the holidays. Join us for a festive stroll down Butler Avenue as we sing in the holidays.
Click HERE for more details. ​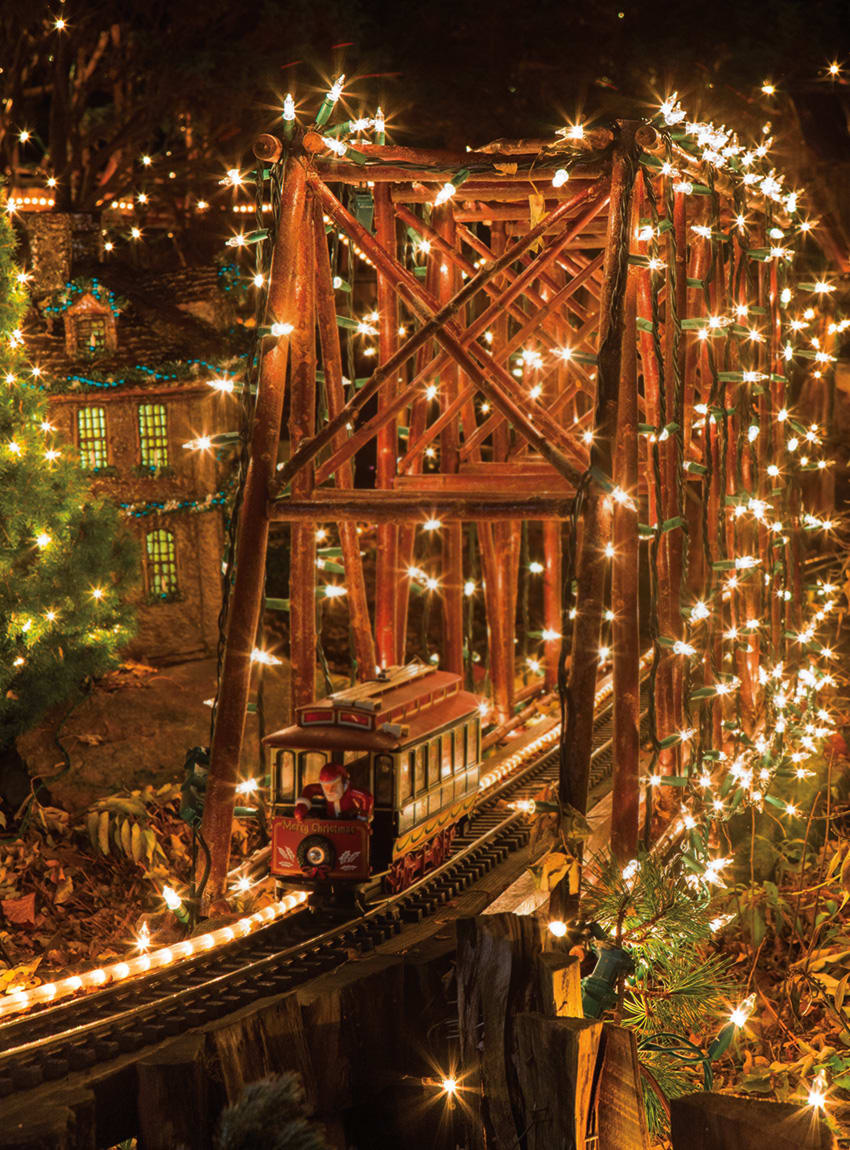 PHOTO COURTESY OF MORRIS ARBORETUM
November 23rd - December 31st
Morris Arboretum, 100 E. Northwestern Avenue, Philadelphia
The Morris Arboretum's popular Holiday Garden Railway returns Friday, November 23rd!
Open through December 31st, free with admission during regular hours. The Arboretum is closed on December 24, 25 & January 1.
Fridays and Saturdays, December 1, 7, 8, 14, 15, 21, 22
4:30pm - 7:30pm
Bask in the glow of thousands of sparkling lights at these magical evenings that have become an Arboretum and family tradition. Snacks and light fare will be available at the Compton Café. These are ticketed events that sell out quickly.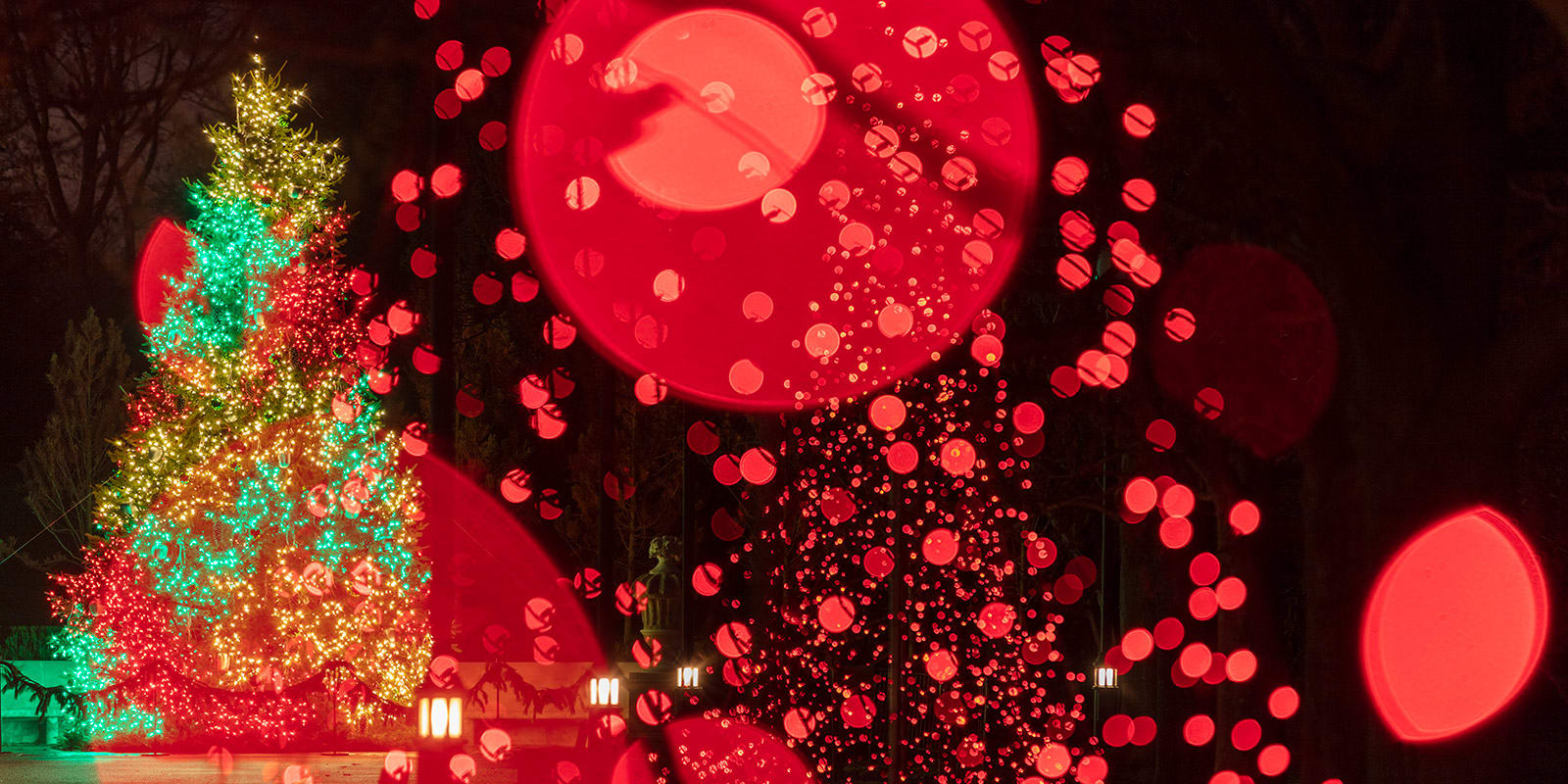 PHOTO BY HANK DAVIS FOR LONGWOOD GARDENS
November 22, 2018 - January 6, 2019
Longwood Gardens, 1001 Longwood Road, Kennett Square
The theme "Tree Reimagined" takes the Christmas tree to a new level inside Longwood Gardens' heated, four-acre Conservatory, during A Longwood Christmas. Outside, 500,000 lights sparkle in the trees. Fridays through Sundays (plus Christmas Eve), Breakfasts with Santa available by reservation.
Click HERE for more details.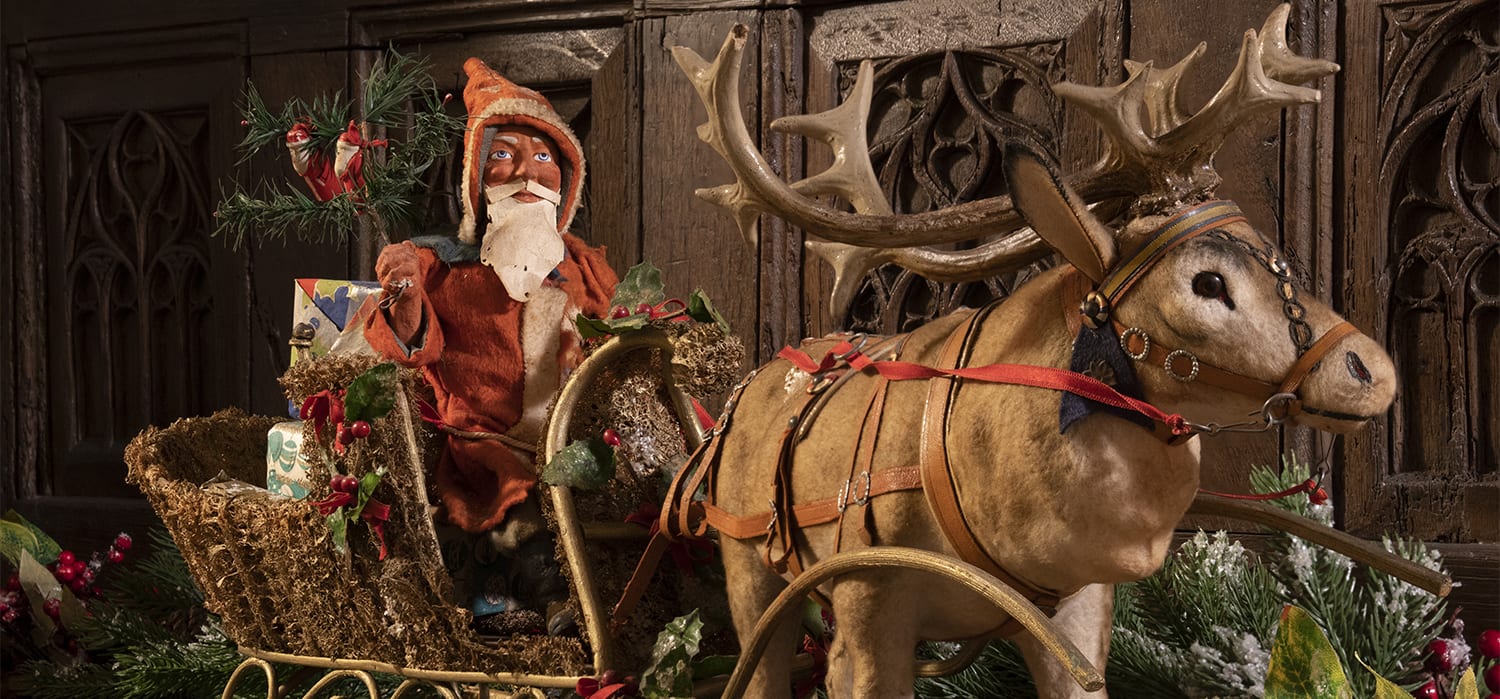 PHOTO COURTESY OF GLENCAIRN MUSEUM
November 23rd - January 6th
M-F 1:30 & 2:30, Sat-Sun 1:00, 1:30 & 2:30pm
Glencairn Museum, 1001 Cathedral Road, Bryn Athyn
For 40 years, from the 1940s to 1970s, Glencairn was home to the Raymond and Mildred Pitcairn family and their lively Christmas festivities. The 45-minute tour gives visitors an intimate look into how Christmas was celebrated in this 20th-century castle using some of the family's decorations, historic photographs, and family members' recollections. The tour also features significant examples of Nativity art in the Museum's collections, with stops on five different floors. At the close of the tour, visitors can explore the first floor and the World Nativities exhibition on their own. To reserve a spot: 267.502.2990 or email [email protected]
Reservations strongly recommended!
​Click HERE for more details.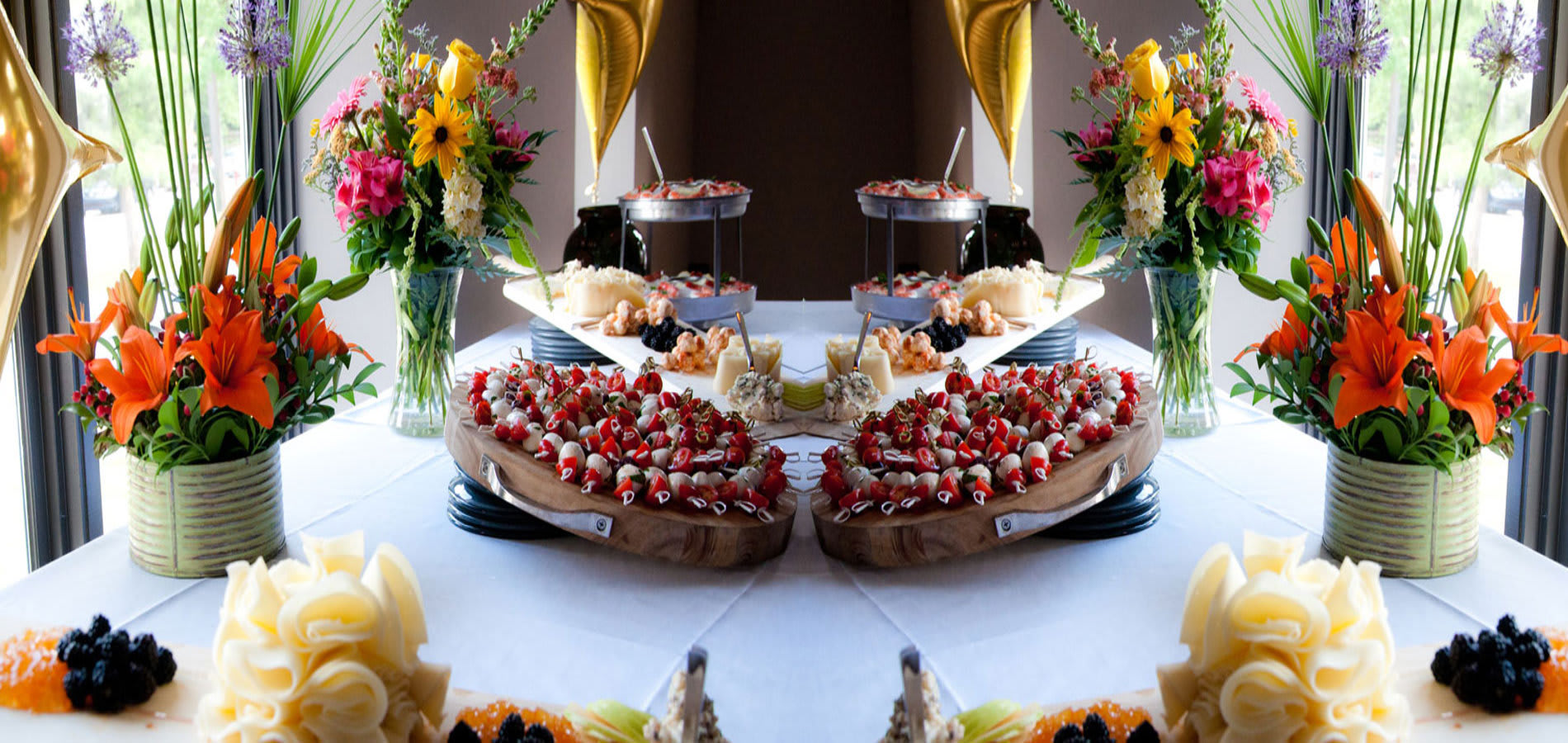 PHOTO COURTESY OF PANACHE WOOD FIRE GRILL
​Thanksgiving Day, Thursday, November 22nd, 1:30 - 8 pm
Panache Wood Fire Grill, 602 Skippack Pike, Blue Bell
​215.641.9000 for reservations
Not in the mood to cook this year? Come celebrate Thanksgiving at Panache Wood Fire Grill! They will be serving up a traditional Thanksgiving feast (not a buffet style dinner). Tickets are $38 for adults and $15 for children under 12.
Click HERE for more details.
Thanksgiving at The Blue Bell Inn
Thanksgiving Day, Thursday, November 22nd, 2 - 8 pm
Blue Bell Inn, 601 Skippack Pike, Blue Bell
​215.515.5556 for reservations
No Thanksgiving plans this year? No problem. Come celebrate one of our favorite holidays at the Blue Bell Inn this year. They will be serving up a traditional Thanksgiving feast with their classic Blue Bell Inn spin. Tickets are $45 per person with a separate coursed meal for the kids.
PHOTO COURTESY OF SESAME PLACE
November 17th - January 1st
Sesame Place, Langhorne
​Meet Santa, enjoy Christmas Light Displays and enjoy live Christmas Musicals at Sesame Place's Christmas Celebration!
Sing along at three special Christmas shows and a spectacular music and light show at their giant 1-2-3 Christmas Tree. Take a train ride tour through the Twiddlebugs' Gingerbread Cookie Factory on the Sesame Place Furry Express, and don't miss the fantastic Neighborhood Street Party Christmas Parade with music and dance moves that will have everyone dancing along and joining in the fun. Don't miss the chance to meet Lightning, the reindeer from the movie Elmo Saves Christmas. Rudolph the Red-Nosed Reindeer with his friends Clarice and Bumble, will be available for photos with guests.
Click HERE for more details.
Happy Thanksgiving! Enjoy!
Sources: www.visitphilly.com, www.uwishunu.com, www.valleyforge.org, www.amblermainstreet.com, montgomercountyalive.com, eventbrite.com