If you're looking for something fun, entertaining or educational to do over the weekend, you've come to the right place. We've created another list of some of our favorite events this weekend so you won't miss a thing. Enjoy!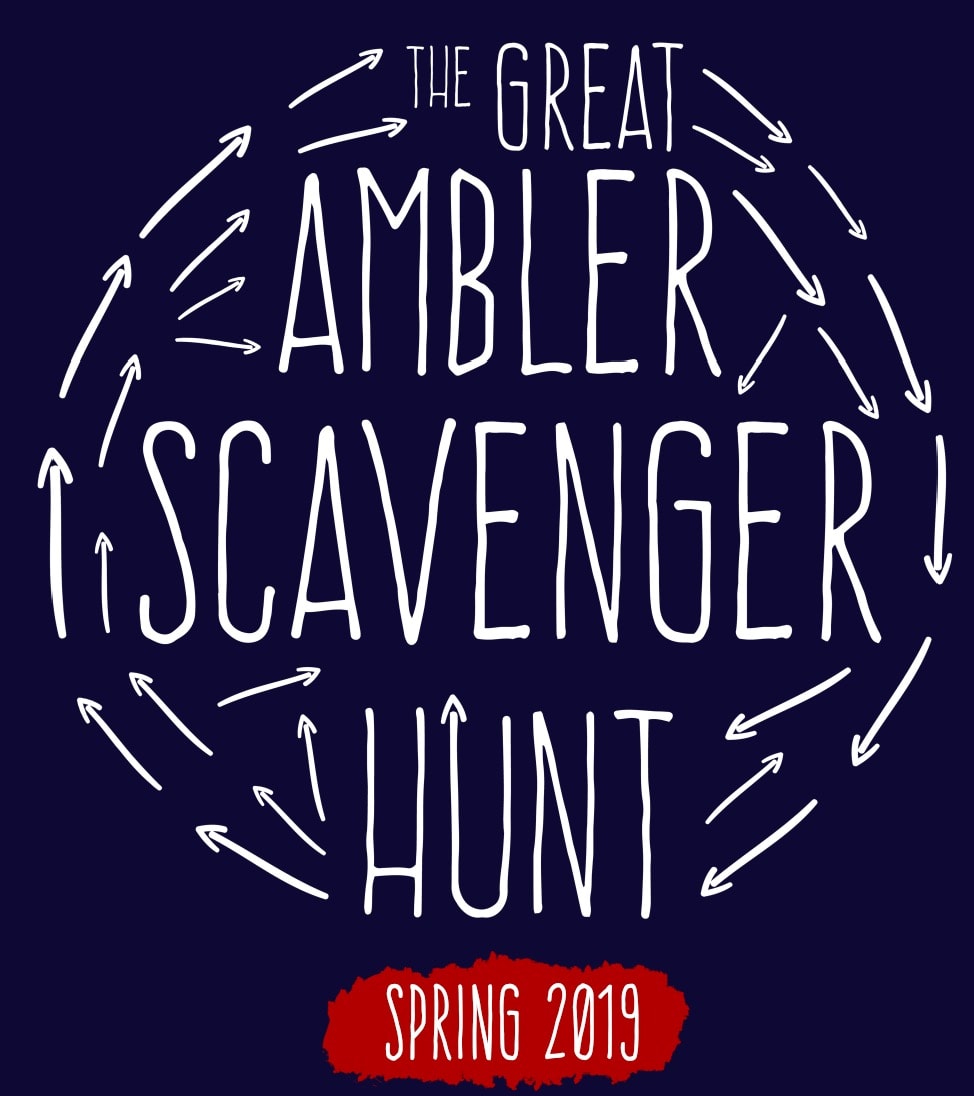 PHOTO COURTESY OF AROUNDAMBLER.COM
Saturday, May 18th, Noon to 2 pm
Get your team together now for the Spring edition of The Great Ambler Scavenger Hunt. The hunt will take your team on an adventure across the Ambler area on foot exploring history, participating in challenges and solving clues with a murder mystery twist!
Here's how it works:
Each team can have up to five people. Be as creative as you want with your team name, you can even dress up to show your team spirit

There are two pisions of participants: Regular pision and a Stroller/Family pision

Regular pision is $25 per person if ordered prior to May 18th or $30 day of. Comes with t-shirt if orderred by May 10th.

Stroller/Family pision is $45 per team if ordered prior to May 18th or $50 the day of. The team must include a baby, toddler or a young child. Includes two adult tee shirts per team if ordered by May 10th.

Check-in is at Gypsy Blu between 11:00 a.m. to 11:45 a.m.

Teams check off items as they complete them which will include capturing photos or video of certain items and challenges

Teams earn points for each item collected and challenges completed. Clues and challenges have different point values depending on degree of difficulty. The team with most points, factored with the time it took to complete the hunt, wins.

The hunt starts at noon sharp. Teams have two hours to complete as much of the hunt as possible

Teams must compete on foot and remain together at all times (no cars, bike, etc)

Each team needs a phone with photo and video capability
**They can only guarantee tee shirt sizes if you register before May 10th- otherwise tee shirts will be given on a first come, first served basis until they run out**
IMPORTANT - If your team buys tickets inpidually, please let everyone know the team name and enter that name where asked during the ticket buying process.
Click HERE for more details.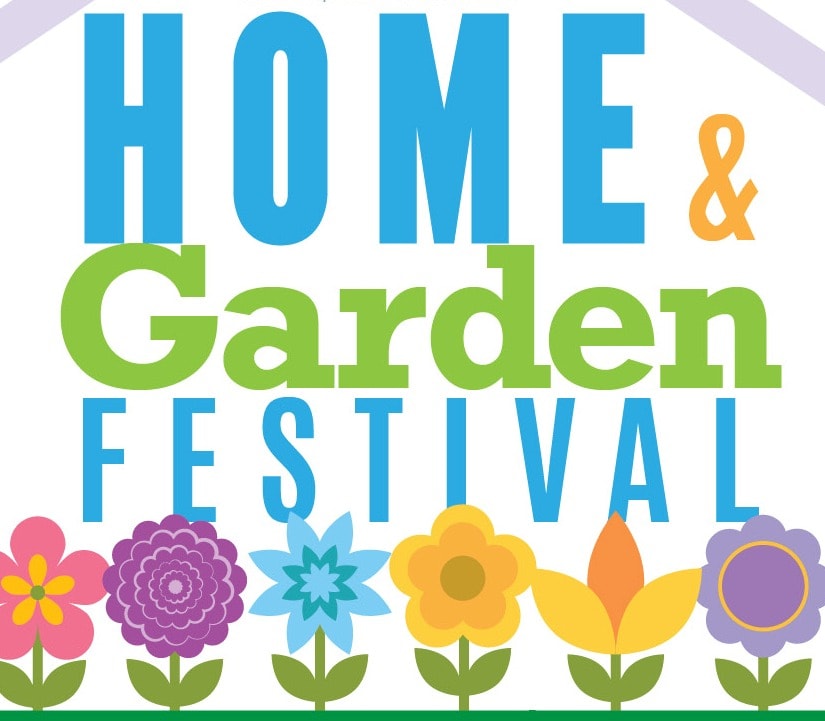 PHOTO COURTESY OF CHESTNUTHILLPA.COM
8000 to 8600 blocks of Germantown Ave, Philadelphia, 215-247-6696
Free Admission
Embrace spring on Germantown Avenue during the annual Chestnut Hill Home and Garden Festival.
Home and garden design and supplies take the spotlight at this all-day fest, which runs along Germantown Avenue in the heart of Chestnut Hill. The 2019 event takes place on Sunday, May 19th (postponed from May 5th). As many as 30,000 fellow garden enthusiasts come out every year to explore the plants, crafts, and artwork from more than 150 vendors.
An assortment of vegetation, including daylilies, succulents, terrariums, and vegetable plants are on display along with the home decors, such as handmade furniture, art, quilts, and collectibles.
Click HERE for more details.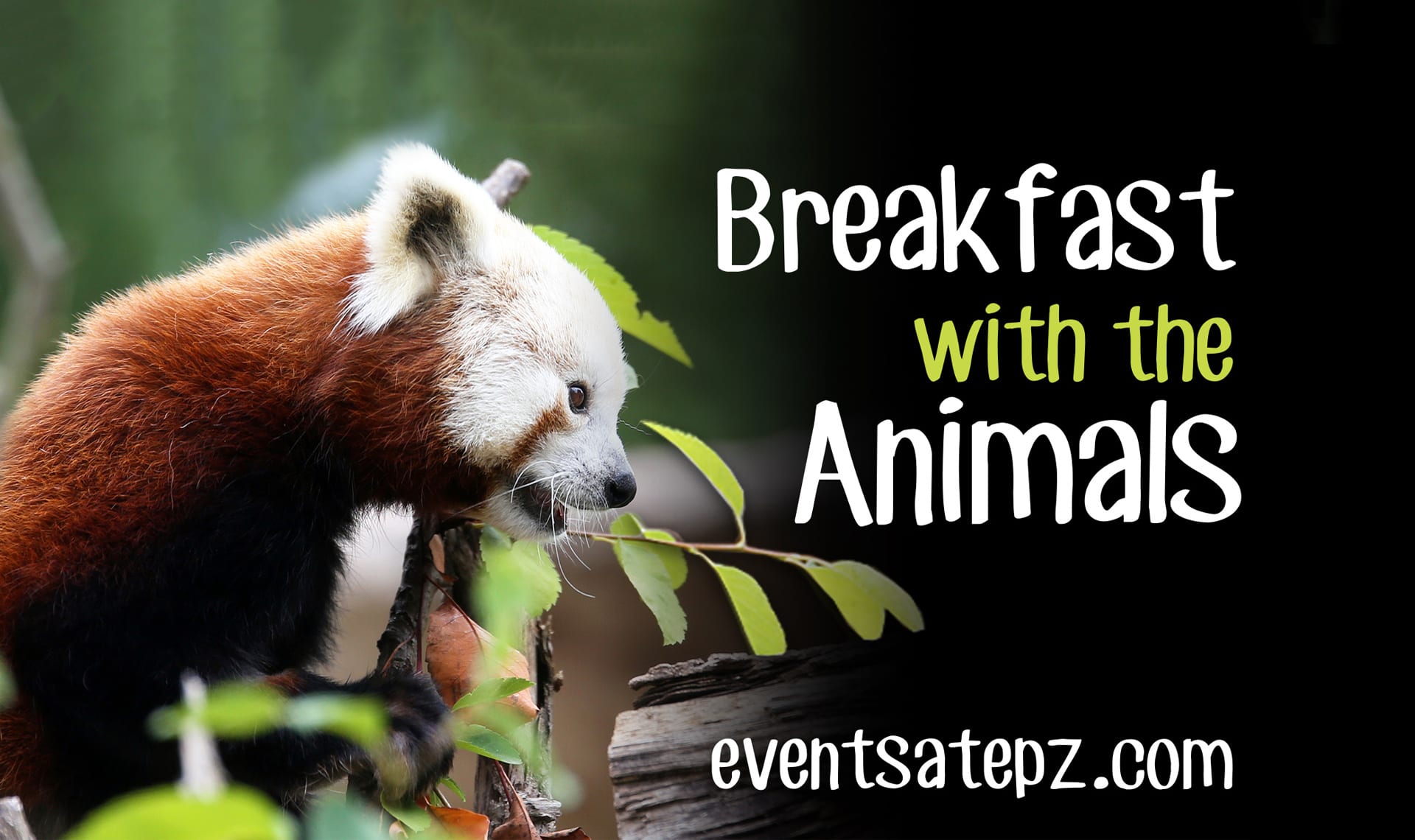 PHOTO COURTESY OF THE ELMWOOD PARK ZOO
Elmwood Park Zoo, 661 Harding Blvd , Norristown, (610) 277-3825
Breakfast With The Animals Series
What's better than breakfast? How about breakfast with some of your favorite animal friends?! The Elmwood Park Zoo's Breakfasts with the Animals are back by popular demand, and better than ever! Join them from 9am-10am as they dine with a different animal!
Schedule:
Saturday, May 18th – Breakfast with the Eagles
Saturday, June 22nd – Breakfast with the Giraffes
Sunday, June 23rd- Breakfast with the Giraffes
Pricing:
EPZ Member Adult: $20.95, Non-member Adult: $29.95 (includes zoo admission)
EPZ Member Child: $15.95, Non-member Child: $25.95 (includes zoo admission)
Child (2 and under): $10.95
Menu:
Scrambled Eggs, Sausage, Breakfast Potatoes, Waffles and
Toppings, Syrup, Whipped Cream, Fresh Fruit, Cookies
Orange Juice, Milk, Coffee
Important Event Details:
They ask that all parties/ families who would like to sit together please register together and under
the same name. They recommend that guests arrive early as breakfasts end promptly at 10:00 a.m. to
restore the area for their daily public opening. High chairs are available in limited supply- first come, first served! Guests are welcome to bring their own highchairs.
Click HERE for more details.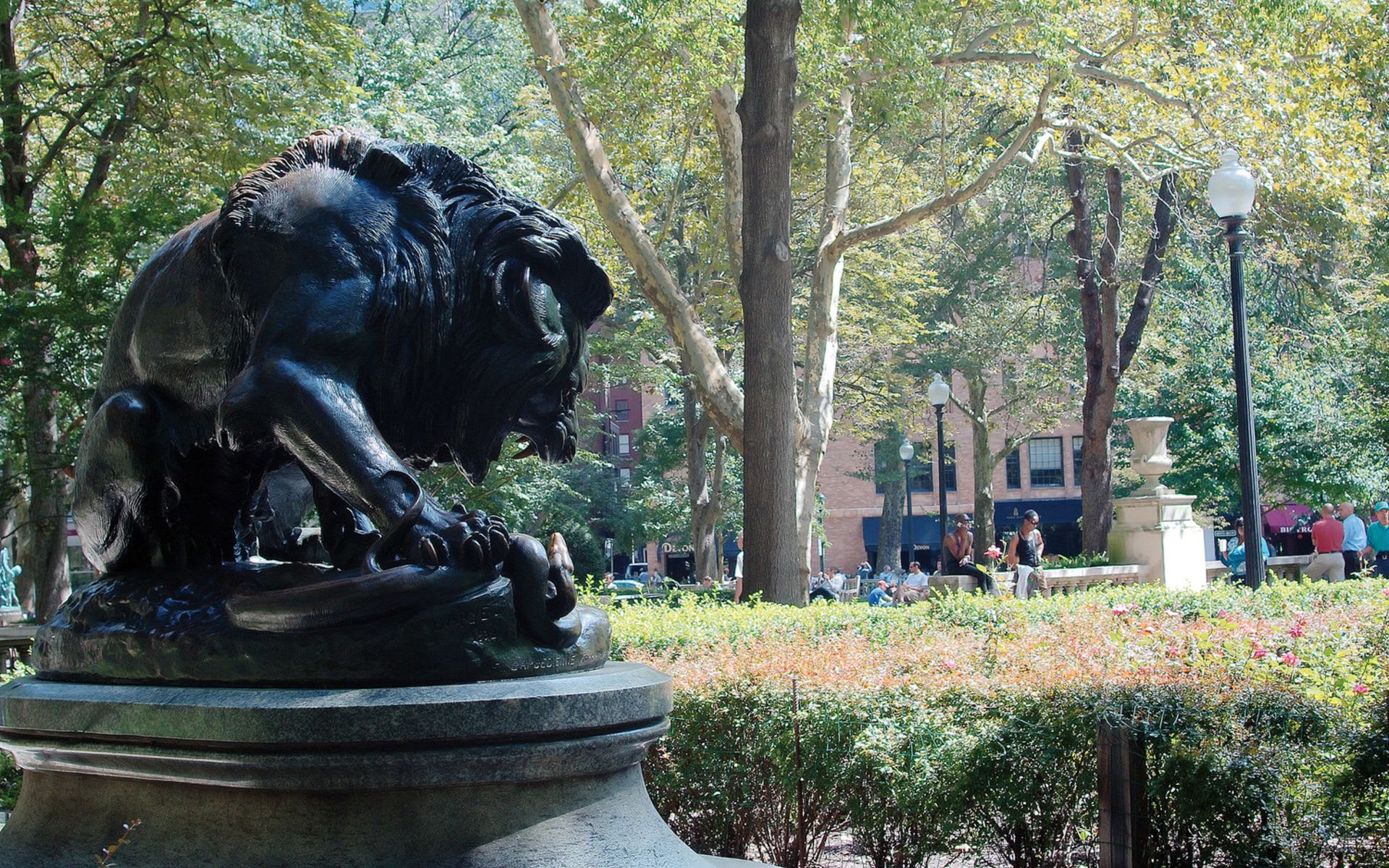 PHOTO BY A. RICKETTS FOR VISIT PHILADELPHIA
Saturday, May 18, Noon - 5 pm
Walnut Street from Broad Street to 18th Street
One of Philadelphia's most popular spring festivals, the annual Rittenhouse Row Spring Festival attracts more than 50,000 people from across the region to Rittenhouse Square for one Saturday each May.
The Rittenhouse Row Spring Festival takes over Walnut Street (from Avenue of the Arts to Rittenhouse Square) on Saturday, May 18th, to showcase the neighborhood's fantastic food, fashion, arts, and entertainment.
Dozens of restaurants set up shop along the sidewalks of Walnut Street to serve up samples of spring fare. Beyond the food, there's also lots of live music, culinary demonstrations, fashion shows and more. Rain-or-Shine Event.
Click HERE for more details.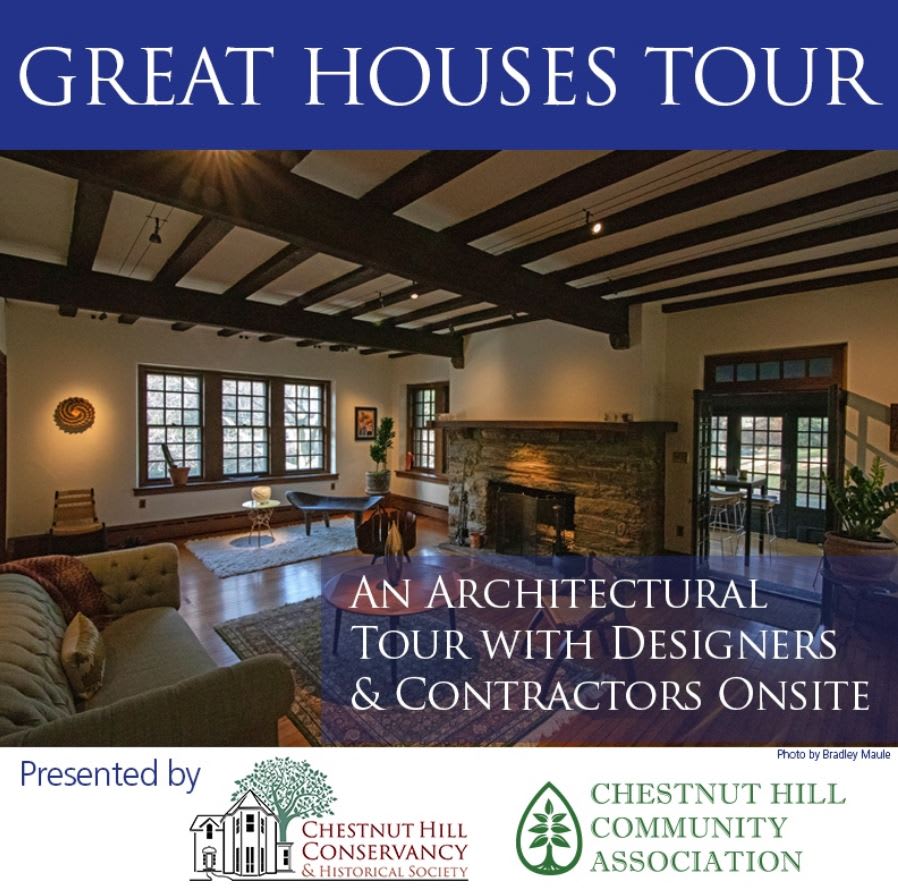 PHOTO COURTESY OF CHESTNUTHILLPA.COM
Sunday, May 19th, 1pm - 5 pm
The Great Houses Tour welcomes you to explore FIVE fabulous Chestnut Hill homes, representing many different architectural styles and eras of construction. All of these homes have been adapted for contemporary living while embracing the community's history and landscape.
Presented jointly by the Chestnut Hill Conservancy and the Chestnut Hill Community Association, the Great Houses Tour is designed to celebrate and share the ways that traditional and contemporary design can coexist in this historic and architecturally extraordinary community. The hosts at each house include the owners and their architects, designers, and contractors to connect you to a wealth of information.
Make it a day in Chestnut Hill! Many restaurants and shops will be offering discounts for Great House Tour attendees – enjoy lunch or dinner at a participating restaurant and receive a 10% discount.
This self-guided tour takes place on Sunday, May 19th, from 1 pm to 5 pm. Guests will receive a map with home locations when they check in at registration located at 8000 St. Martin's Lane, Philadelphia, PA 19118 between 1 pm and 4 pm. This tour is a rain or shine event.
​Click HERE for more details.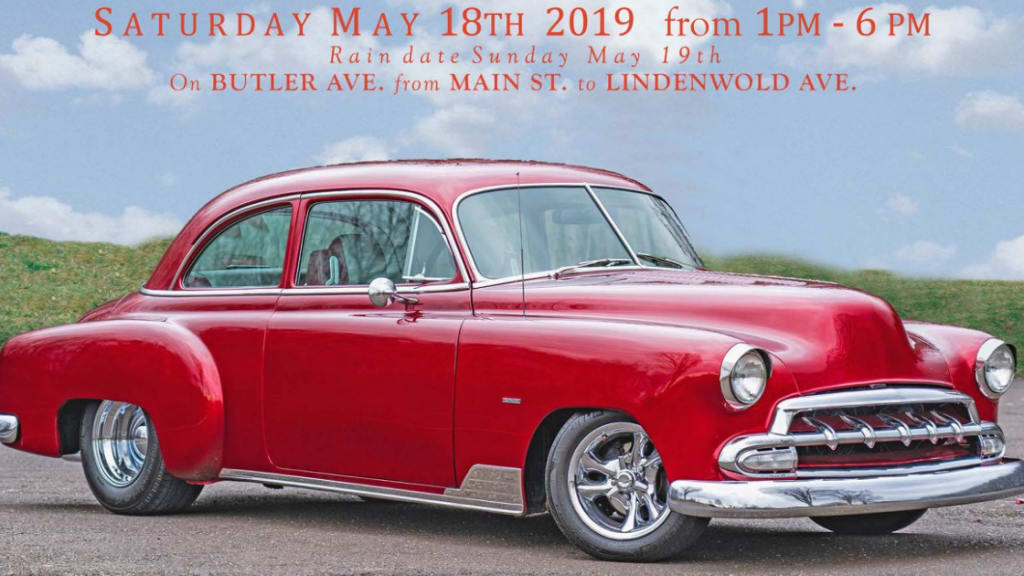 PHOTO COURTESY OF AROUNDAMBLER.COM
Saturday, May 18th, 1 pm-6 pm
The Ambler Auto Show takes place on Butler Avenue from Main Street to Lindenwold.
Raindate: Sunday, May 19th
​Click HERE for more details.​​
Saturdays from 9 am- 1 pm (May thru October)
29 W Butler Avenue, Ambler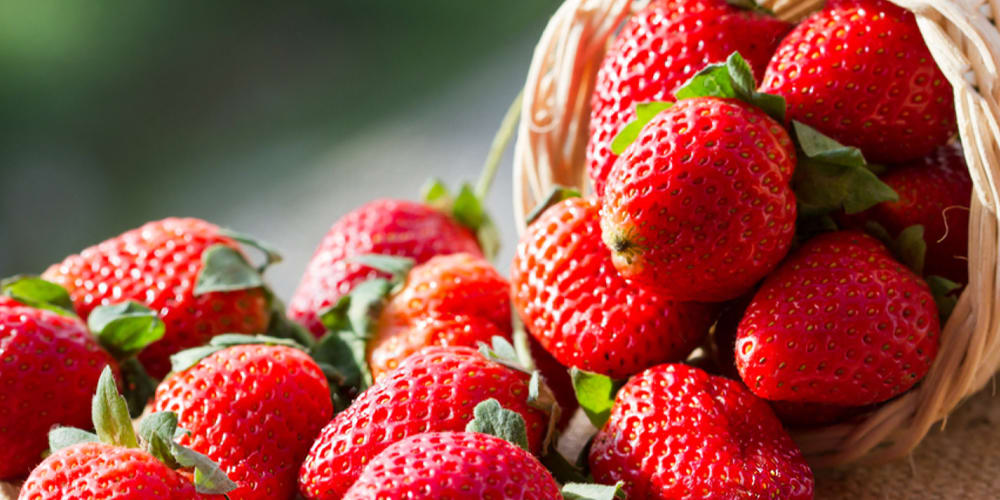 PHOTO BY M. EDLOW
Saturday, May 18th and Sunday, May 19th - 10 am to 6 pm
Peddler's Village, 2400 Street Road, New Hope
Celebrate berry sweet traditions at the Peddler's Village 41st Annual Strawberry Festival! The weekend will include strawberry-themed food, beverages, live music, food trucks, kids' activities, and 70 artisans. Pie-eating contests for adults and children will be held on both days at 3 p.m. Rain or shine, the festival will take place on Saturday and Sunday from 10 a.m. to 6 p.m. Peddler's Village shops will be open until 8 p.m. on Saturday. Admission and parking are free.
PLEASE NOTE: Parking is limited and spaces fill up quickly. We recommend arriving early, carpooling, and/or using Lyft, Uber, or taxis whenever possible.
The Strawberry Festival Package offers guests guaranteed parking and priority restaurant seating (up to a party of six) at Peddler's Village restaurants as well as a Peddler's Village Bag, Peddler's Village T-shirt, a Local & Loyal Rewards Card and Festival Guide.
​Click HERE for more details.
Picture
PHOTO COURTESY VALLEY FORGE TOURISM AND CONVENTION BOARD
May 18th - June 16th
Greater Philadelphia Expo Center, 100 Station Avenue, Oaks
Award-winning acts from around the world, including live rescue animals, will appear under the Big Top on the Expo Fairgrounds in Oaks, May 18th through June 16th. This New York City circus that built its reputation around the humane treatment of its animals makes its Montgomery County debut at the fairgrounds of the Greater Philadelphia Expo Center.
​
Click HERE for tickets.
OPEN HOUSES THIS SUNDAY, MAY 19TH, 1-3PM
849 April Hill Way, Harleysville | Offered at $999,999
Stunning family home on a very quiet cul-de-sac in Harleysville!
For more details, please visit: https://bit.ly/2Gne8hZ
3160 Deer Creek Rd, Worcester | Offered at $1,495,000
Exceptional Home on 7.6 Acres in Methacton School District!
For more details, please visit: https://bit.ly/2D8HcZT
Please call Linda Gedney at (215) 205-0181 for a private showing.
Have a great weekend!
Sources: www.visitphilly.com, www.uwishunu.com, www.valleyforge.org, montgomercountyalive.com, eventbrite.com, www.aroundambler.com